"Rogue One" Review: A Strong Standalone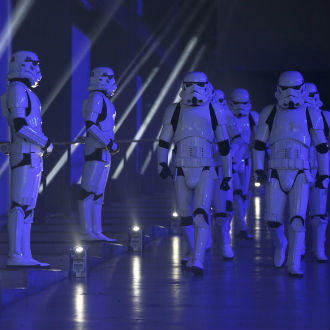 By John Hanlon, John Hanlon Reviews
The Force is strong with this new chapter.
In creating the world of Rogue One: A Star Wars Story, the screenwriters had a complicated task. In addition to telling an all-new story in this prequel to the original Star Wars, they also had to remain cognizant of what the next chapter would hold.
With that in mind, the filmmakers were free to create a new story but limited by the consequences of that story.
Considering that, it's hard not to appreciate their work here despite the new film's shortcomings. Felicity Jones stars here as Jyn Erso, a young criminal who doesn't care about the rebellion. When someone mentions that the Imperial flag could be soon flying all over the galaxy, she says that she just won't look up. Her mind changes when her father Galen (Mads Mikkelsen) — an Imperial science officer forced to work on the Death Star — re-emerges into her life.
The film's first half tells Jyn's back story, introducing viewers to Saw Gerrera (Forrest Whittaker), an extremist rebel who has gone into hiding. Jyn slowly transforms into a rebel warrior, teaming up with rebel leader Cassian Andor (Diego Luna), pilot Bodhi Rook (Riz Ahmed) and a martial arts warrior Chirrut Îmwe (Donnie Yen) to steal the Death Star plans.
The early scenes are often set in bleak and darkened environments. From a cave hideout to a prison, director Gareth Edwards sets many of his scenes in closed and isolated areas. In the original Star Wars, there were plenty of scenes set in darkened areas but the visuals there were more exciting than the ones here. For instance, the Mos Eisley Cantina was poorly-lit in the original film but the place was still alive with the uniqueness of the characters in it.
Here, some of these areas are sadly more forgettable locations.
In the film's second hour though, the visuals truly come alive embracing director Gareth Edwards' vision and creating truly new memorable locales. The world of the tropical planet Scarif, for instance, is an incredible visual feat. The climactic battle sequences occur on that beautiful planet and it's here where the story's potential takes full effect. From the great fight sequences outdoors to the intense thrills inside an Imperial fortress, this act shows this prequel embracing the world-building that this series is well known for.
Because this is a standalone picture that occurs right before the events of the original Star Wars, some of the characters aren't given the screen time they deserve. Screenwriters Chris Weitz (About a Boy) and Tony Gilroy (The Bourne Identity) — who brought to life the story by visual effects supervisor John Knoll and Gary Whitta (The Book of Eli) — do a solid job creating these new characters. However, with such a broad story to tell, characters like Bodhi Rook and Chirrut Îmwe aren't given the background they deserve.
There are a few extremely memorable characters here including Orson Krennic (Ben Mendelsohn), the Imperial officer in charge of the Death Star creation. Mendelsohn's authoritarian character is manipulative and arrogant and his arrogance brings him in direct conflict with Grand Moff Tarkin, an unforgettable character who was first introduced in the original Star Wars. Tarkin was originally played by Peter Cushing and here, Cushing (who passed away in 1994) is brought back to life through the magic of visual effects and a physical performance by Guy Henry.
Rogue One: A Star Wars Story is a strong standalone feature that builds on the chapters we've already seen (especially the original film) while embracing its singular identity. It doesn't offer the supreme joy of Star Wars: The Force Awakens but it's an impressive feat nonetheless.
John Hanlon is our film and television critic. He can be followed on Twitter @johnhanlon and on Facebook here.