"American Born Chinese" Review: A Solid Family Series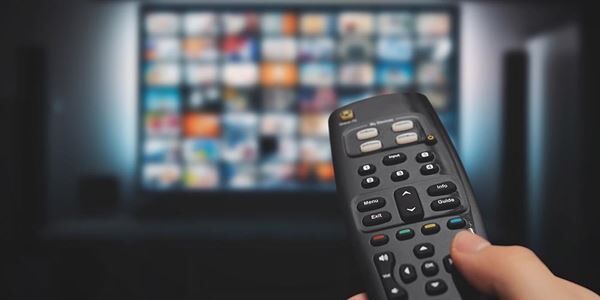 By John Hanlon
A solid family series on Disney+.
The new Disney Plus series American Born Chinese tells the coming-of-age story of a Chinese teenager who reluctantly becomes entangled in a battle for the future of a celestial space called Heaven. Adapted from a graphic novel, the show attempts to balance the story of a teenage boy growing up with the story of a celestial uprising by a fallen soul nicknamed Bull Demon.
In its early episodes, that balance is hard to achieve.
Ben Wang stars as Jin Wang, a high school student who hopes to join his friends on the soccer team. When a fellow Chinese teenager named Wei-Chen (Jimmy Liu) enrolls in school, the principal pushes the two together. Although Jin wants to step away from his past hobbies (like reading comic books), Wei-Chen pushes for him to embrace that side of him.
What Jin doesn't realize, however, is that Wei-Chen came from another world. In that world, Wei-Chen's father (Daniel Wu), nicknamed The Monkey King, is fighting to prevent the uprising by his former friend, the Bull Demon (Leonard Wu). On Earth, Wei-Chen-- who believes Jin is his spiritual guide-- is guarded by Guanyin (Michelle Yeoh), the Goddess of Mercy.
The high school scenes, showing Jin struggling to figure out who his real friends are, are far more intriguing than the sequences from the other world. Fortunately, creator Kelvin Wu seemingly understands that, focusing more on Jin and less on the otherworldly back story. It's less interesting to understand the folklore here than it is to see Jin facing family drama and high school problems.
It doesn't help that the make-up for some of the otherworldly characters (including the Monkey King and Wei-Chin's attire in Heaven) aren't particularly believable. At times, it feels like their characters are a throwback to otherworldly characters from 80s movies.
Fortunately, this is a coming-of age story with fantastical elements rather than the opposite and that really helps Jin develop as a relatable character whose problems feel completely understandable.
Throughout the show, there's a secondary storyline about a 90s-style sitcom called Beyond Repair facing a resurgence. That series, which stars Jamie (Ke Huy Quan) as a hapless landlord, relies on racist tropes. Even though that secondary story doesn't feel like it should fit in, it actually does and it offers a revealing look at cultural racism Jin faces.
There's something really intriguing about Jin, who strives to fit in, dealing with the background noise of an outdated sitcom that stereotypes and insulates people like him.
The final episode of the eight-episode season brings the disparate elements of the series together with Jin's high school becoming an actual battleground. It's here that the premise of the series seemingly gets fulfilled with the lead character understanding his role in the whole endeavor. That episode sees Jin questioning what it means to be a hero. As Jamie states, "A hero is someone who goes on a journey, shows courage, [and] helps others."
American Born Chinese never works as well as it should but it's still a solid series that families can watch together. The main cast is a particular highlight here with Wang smoothly leading the story as the main character and Quan and Yeoh — who recently won Academy Awards for playing a married couple in Everything Everywhere All At Once — are wonderful supporting players here. Even as it shows Hollywood has a history of relying on stereotypes, it breaks free from the past and shows that everyone can be a hero if they choose to be.